Preventative pelvic health for all Tasmanians project receives Healthy Focus grant
Pelvic health is a crucial yet often overlooked aspect of our reproductive health and overall wellbeing. Unfortunately, it can also be an area of healthcare difficult to access for people on a low income. Family Planning Tasmania is working to change that by partnering with pelvic physiotherapists across the state to offer regular education and exercise sessions and digital resources specifically tailored to the Tasmanian environment.
We were delighted with the announcement on Friday 5 May 2023, that our project will be funded through a Healthy Focus grant by Healthy Tasmania. New CEO Lalla Mackenzie and Marketing & Communications Coordinator Molly Frankham attended the announcement given at the Clarence Plains Child and Family Learning Centre which included a grounding and mindful Welcome to Country and smoking ceremony. Premier Jeremy Rockliff gave an address at the announcement congratulating grant recipients. Family Planning Tasmania was one of many organisations making a difference in healthcare in Tasmania. For a full list of recipients visit this website>>, and to learn more about Healthy Tasmania, visit their website here>>.
Image below: Molly Frankham, CEO Lalla Mackenzie and Premier Jeremy Rockliff at the announcement.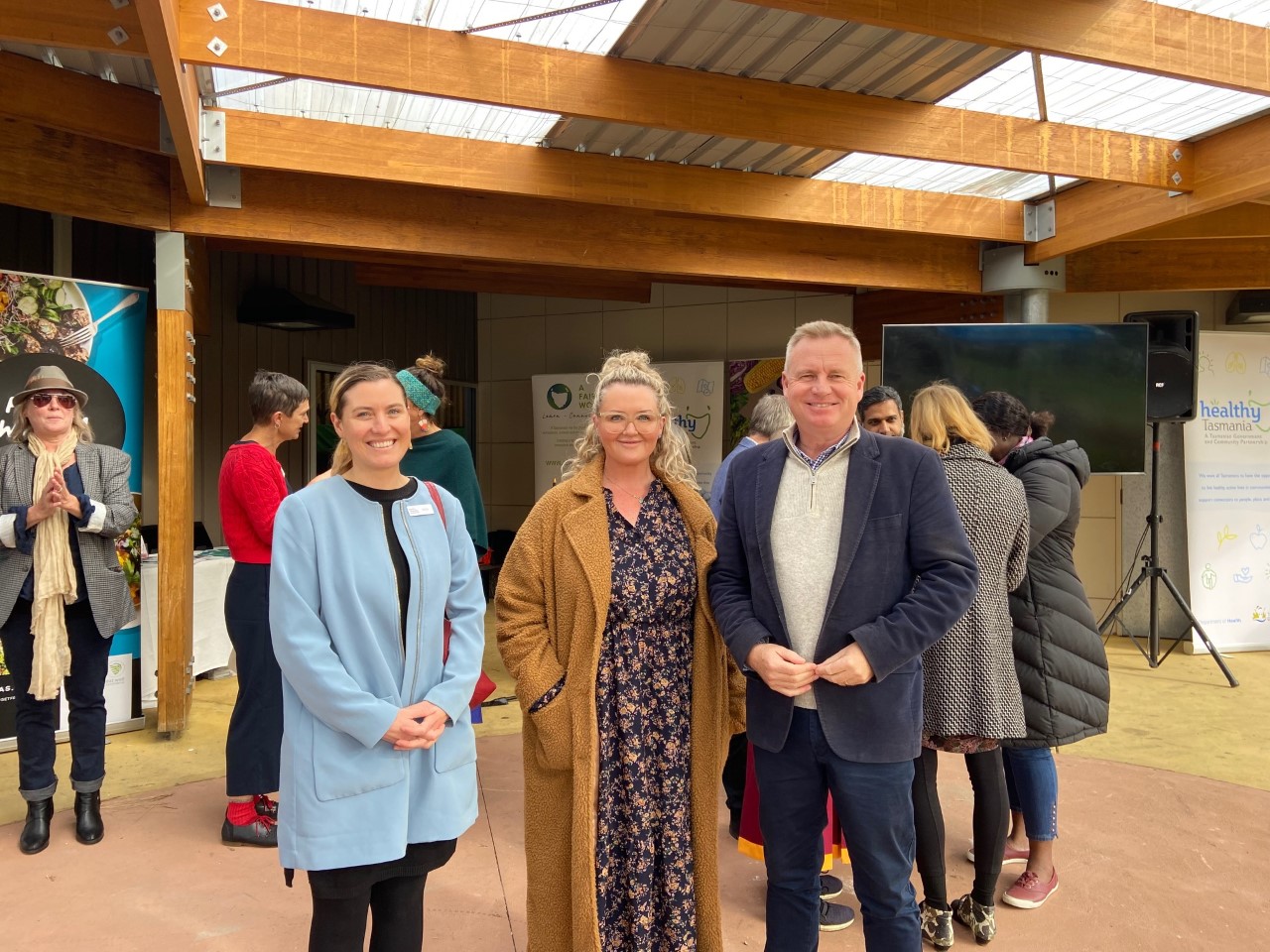 Family Planning Tasmania's project, titled Preventative Pelvic Health for all Tasmanians, is particularly important given that up to 50% of women and people assigned female at birth in Australia develop pelvic organ prolapse or incontinence during their lifetimes. These conditions can be debilitating and significantly impact a person's quality of life. While patients on low incomes incur no out-of-pocket costs at Family Planning Tasmania for medical solutions for common pelvic issues, access to more holistic pelvic floor health or preventative exercise options can be limited.
Through this project, up to 720 people will be able to attend in-person sessions led by both doctors and physiotherapists in community settings across Burnie and North West Tasmania, Launceston and Northern Tasmania, and Hobart and Southern Tasmania. These sessions will provide education on pelvic floor muscles, exercise ideas, health and lifestyle advice, and information on medication and medical treatment options. They will also offer support and networks for people living with prolapse and incontinence.
For those unable to participate in person, one recorded session will be accessible on-demand at any time. Additionally, a Tasmanian-specific digital resource will be created that offers advice, information, and exercises specifically for prolapse and incontinence. This resource will be available on-demand for any time for all Tasmanians.
The need for this project is evident given the prevalence of pelvic organ prolapse and incontinence among women and people assigned female at birth in Australia. Family Planning Tasmania sees over 600 patients a year for pelvic issues, with 90% being on low incomes and/or concession card holders. Many patients report improved quality of life thanks to the ring pessary service provided by Family Planning Tasmania, but they also report difficulty accessing physio exercise classes or other preventative services in a timely or affordable manner.
With 27 GPs working with us across the state, including in North West Tasmania where pelvic physiotherapy is hardest to access in the public system, Family Planning Tasmania is well-equipped to positively impact pelvic health for all Tasmanian women, regardless of financial circumstances,
We are excited about the potential impact of this project and look forward to working with our partners and communities to improve pelvic health and reduce the likelihood of debilitating pelvic systems interfering with caring for family members or impacting the quality of life. We will inform you as the services and resources become available for rollout.
A huge congratulations to other grant recipients in this grant round the programs and projects are sure to make meaningful change in the Tasmanian community. We extend our deep gratitude to Healthy Tasmania for this grant.
Image below: CEO Lalla Mackenzie participates in the smoking ceremony and Welcome to Country.