Make an appointment by contacting your nearest clinic. Or complete our appointment request form and a friendly receptionist will call you back. Once you've completed the form, please close out of this window to avoid multiple form sends.
Glenorchy – 421 Main Road, Glenorchy TAS 7010
Phone: (03) 6273 9117
Opening Hours: Monday – Friday 9:00 – 5:00. Closed during lunch.
Launceston – 269 Wellington Street, Launceston, 7250
Phone: (03) 6343 4566
Opening Hours: Monday – Friday 9:00 – 5:00. Closed during lunch.
Burnie – 199 Mount St, Upper Burnie, 7320
Phone: (03) 6431 7692
Opening Hours: Tuesday, Wednesday, Thursday 9:00 – 5:00. Closed during lunch.
When you book an appointment
When you call to make an appointment, our receptionist will ask you a few questions to make sure we book the right appointment for you. Please make sure you have the privacy you need to answer these questions when you call.
Our reception staff will be able to tell you whether your appointment is with a doctor or a nurse and whether there will be any fees.
Find out more about fees
Confirming your appointment
You will receive an SMS before your appointment asking you to confirm you're able to attend. Please reply Yes to this SMS to avoid your appointment being cancelled.
Cancellations
Our appointments are in high demand. Should you no longer need yours or if you are unable to attend due to illness or another reason, please phone us as soon as possible to let us know. This can allow us to help someone else.
When you come for your appointment
Please bring your Medicare, Healthcare or other Concession Card (if you have any of these).
If you are a new patient, please arrive 10 minutes early to complete our new patient form.
Support person
To help us minimise the risk of infection during COVID-19, please only bring a support person such as a friend, partner or relative if absolutely necessary. Your support person may be asked to wait outside if they aren't coming in to the consultation with you.
We often need to see clients on their own during a consultation, and your support person may be asked to leave the consult room for a short period of time.
Interpreting services
If you would prefer to talk to your doctor or nurse in a language other than English, we can book a telephone interpreter for you at no additional cost. Please let the receptionist know if you would like an interpreter and which language.
Phone TIS 131 450 and tell them your language.
Tell the interpreter your name and which clinic you are calling:
Family Planning Tasmania Glenorchy 03 6273 9117 OR Family Planning Tasmania Launceston 03 6343 4566 OR Family Planning Tasmania Burnie 03 6431 7692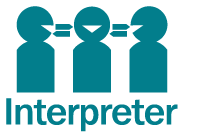 Request an Appointment
Please submit your contact details below and a receptionist will call you to book your appointment (Mon-Fri only).